When to Conduct a Penetration Test: Timing is Key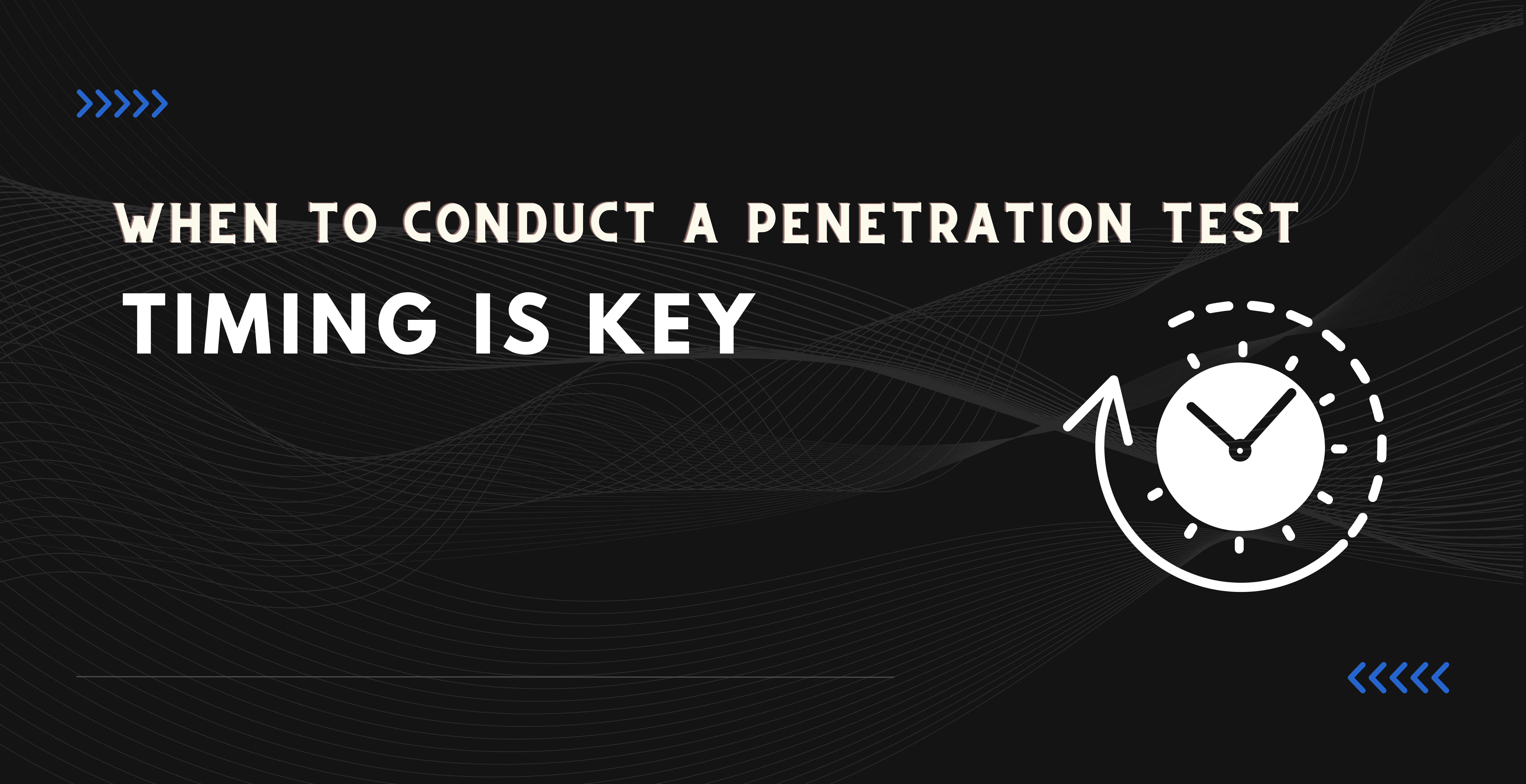 Organizations use penetration testing, also known as "pen testing" or "ethical hacking" as a crucial security measure to find and fix security vulnerabilities in their networks and systems.
By simulating a real-world attack scenario, penetration testing helps identify and prioritize vulnerabilities that require immediate action. The importance of the systems being tested, regulatory requirements and penetration testing frequency will change depending on the risk profile of the organisation. Penetration testing may be required more frequently and more throughly for businesses in high-risk sectors like finance,healthcare or organizations that house private or sensitive data, than for businesses in low-risk sectors.
There are several common scenarios when penetration testing should be conducted:
New System Implementation: Vulnerabilities should be checked as soon as a new system or network is put into use. This is crucial because newly created systems and networks are frequently more susceptible to attack than older ones are, and attackers are less likely to take advantage of vulnerabilities that have already been identified and fixed.

Compliance Requirements: Penetration testing is subject to a number of industry-specific regulations, such as the Health Insurance Portability and Accountability Act (HIPAA) for healthcare organisations and the Payment Card Industry Data Security Standard (PCI DSS) for companies that process credit card payments. Organizations that operate in these industries are required to comply with these requirements in order to avoid penalties or fines. Typically, these requirements specify how frequently penetration testing must be performed.

Regular Basis: To make sure that the company's security posture is kept up to date and any new vulnerabilities are found as soon as possible, it is advised to conduct regular penetration testing, for example, once a year. Regular testing is also necessary to stay on top of the constantly changing threat landscape.

After a significant change in the network or system: Any significant modifications to the software or configuration of the network or system infrastructure may result in the creation of new vulnerabilities. To make sure the system is still secure after any significant changes is another crucial time to conduct penetration testing. This may involve the introduction of new software, hardware upgrades, and adjustments to network configurations. It is crucial to test systems and networks both before and after changes are made in order to ensure that vulnerabilities are found and fixed as soon as possible.

After a security incident: Penetration testing should be conducted after security incidents or breaches in addition to routine testing. Testing of systems and networks that were specifically affected by the incident as well as testing of systems and networks that were not directly affected but may have been impacted can be included in this. This kind of testing can assist organisations in determining the incident's underlying cause and in taking action to stop similar incidents from happening in the future.

Third-party vendor assessment: To make sure that the vendor's systems do not present a risk to the organisation, it is crucial to perform a penetration test on the systems used by the organisation when using a third-party vendor for services like hosting, cloud services, or software development.

Mobile Application testing: Since mobile applications are so popular, it's crucial to perform a penetration test on them to make sure they are safe and won't put users' personal information at risk.
It's also crucial to remember that only security experts with experience and credentials who are also familiar with ethical hacking should perform penetration tests. The system owner should have given the testers permission before they conduct the test, and they should be aware of the ethical and legal ramifications of their actions.
Conclusion
In order to find and fix vulnerabilities in systems and networks, penetration testing is a crucial component of an organization's overall security strategy. It should be carried out on a regular basis. Depending on the risk profile of the organisation, the importance of the systems being tested, and regulatory requirements, testing frequency will change. To make sure that vulnerabilities are found and fixed in a timely manner, it should be carried out prior to the implementation of any new systems or networks, before and after any significant changes are made to current systems, and on a regular basis. Additionally, it ought to be carried out in accordance with legal requirements and in response to security incidents or breaches. To strengthen the organization's overall security posture, a regular testing schedule and a strategy for resolving vulnerabilities that are found are essential.
About us
Snapsec is a team of security experts specialized in providing pentesting and other security services to secure your online assets. We have a specialized testing methodology which ensures indepth testing of your business logic and other latest vulnerabilities.
If you are looking for a team which values your security and ensures that you are fully secure against online security threats, feel free to get in touch with us support@snapsec.co